[…]
---
"How can I properly train for climbing?"
That's usually the hot question for most climbers. And then even finding the right training program for your body (and your lifestyle) can be really challenging!
This was the same question on Colorado climbers Neely Quinn and her husband Seth Lytton minds' when they created TrainingBeta.com. 
Their site has a TON of beta from an assortment of climbers, nutritionists, coaches and trainers – from our friend Kris Peters from Team of 2, Angie Payne, Jonathan Siegrist and many more.
They recently released a brand NEW bouldering training program and as a way to introduce themselves to Planet Granite, they're offering us ALL a 25% OFF discount for the next 4 weeks!
Read on to hear their story, score yourself TWO FREE sample workouts AND get that PG discount code. Enjoy!
---
This post is the 1st of 3 articles written especially for Planet Granite by Neely Quinn, a climber, nutritionist, and owner of TrainingBeta.com.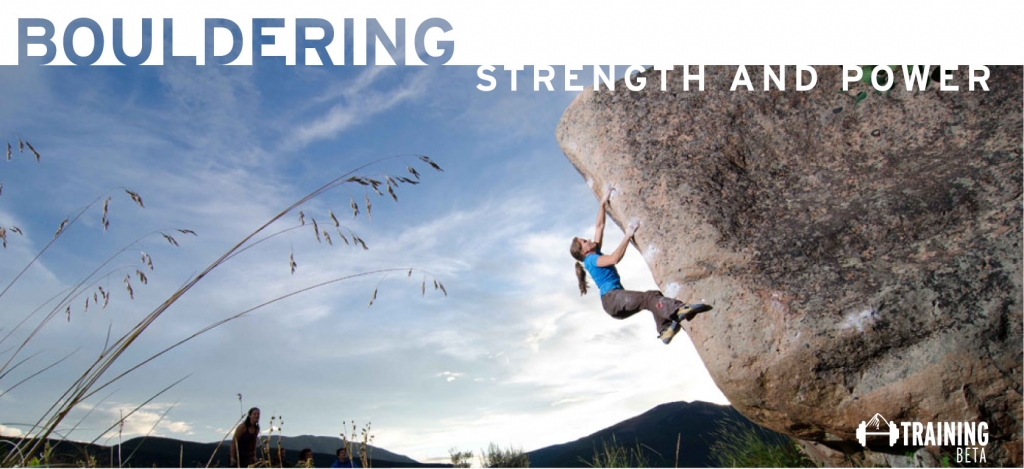 Who we are at TrainingBeta
As climbers, our main objectives are to have fun and to be as awesome at our sport as we possibly can be. Simple enough right? Nope, not even close!
Last February, I was struggling with my climbing, trying to figure out how to overcome a plateau I was at. I was searching online for training information and coming up short.
No offense to the people out there with training info, but I wanted a PLAN, and one that I didn't have to spend 6 hours deciphering and figuring out for myself.
I also didn't want to pay a ton of money to get personal training. And I also wanted a variety of really easy-to-follow advice from all kinds of strong climbers and good trainers – not just one person.
So my husband Seth and I created TrainingBeta.com, where we collect as much training information from as many strong climbers and trainers in one place as we can!
We have a blog with tons of training articles by trainers, climbers, and us.
We have a podcast where I interview trainers and climbers, and there are training videos and training programs for all kinds of climbers of ALL abilities!
2 Sample Workouts –
Just for 
Planet Granite 
Here's 2 workouts taken directly from the new bouldering program, so you can get a taste of what's in there! And so you also have two awesome new drills to do like NOW. So get started this week!
Want more?
This new Bouldering Strength and Power Program was created by Kris Peters, (the trainer from Team of 2), and it's a subscription plan, so you can train with Kris's guidance for as long or as short of a time as you want to.
You get 3 workouts every week that train the following:
Power Endurance

(climbing and weight room)

Power

(campusing and weight room)

Finger Strength

(fingerboarding)

Overall Strength

(weight room, circuit training, climbing)

Fitness

(cardio* and circuit training)

Injury Prevention

(opposition and strengthening exercises)

Projecting

(on a bouldering wall)
* We know a lot of people hate cardio, so we explain who should be doing it and why in the program.
It's a cyclical program, so every 6 weeks you'll be training something specifically, whether it's power, strength, or power endurance.
*Special Discount for ALL
Planet Granite

Climbers!*

From TODAY until SUNDAY 11/30, ALL climbers at Planet Granite can get 25% OFF ANY of the subscription programs on TrainingBeta.com!  

Because we heard you guys at PG are SO psyched on training (or so we've been told by Kris Peters from Team of 2!) we're really excited to share our programs with ya.

You just need to use the coupon code "PlanetGranite" at checkout to get the discount!
——
So you might be thinking  – "Why Train and Not Just Climb More?"
We tried to think of everything a boulderer would need in order to send harder, since we know first hand how important climbing can be!
For a lot of years I just figured that climbing was enough to train for climbing. The more I climbed, the harder I should be able to climb, right? Well, not so much because I hit that plateau.
As soon as I started training with weights, the finger board, campus board, and getting a little fitter, I noticed measurable improvements in my climbing. It's unbelievable how simple it is, and yet how overlooked "training" is for most climbers!
Ok you're psyched to train but your schedule is 'hella' busy. We hear ya!
Research has shown that MORE training is NOT necessarily better… or smarter in fact!
Often, shorter, concise training sessions are more than enough to produce fast results in your climbing! We had that in mind when we created these workouts, as well as the fact that not everyone can train for 6 hours 6 days a week like some of the pros do.
So there are 3 workouts a week – 2 climbing and 1 either fingerboarding or campusing (or alternate workouts for super beginners) – and almost all of them are between 1.5 and 2.5 hours, including your warm-up!
You can fit these workouts in over the week if you're going climbing on the weekend, and you can always adjust how many of the workouts you do, depending on whether it's sending season or training season.
---
We love to chat!
We'd love to have your feedback if you do try it out, and if you ever have any questions about anything training or TrainingBeta, just email us at info@trainingbeta.com.
Whether you train with our programs, with a personal trainer, or on your own, we wish you the best with your climbing!